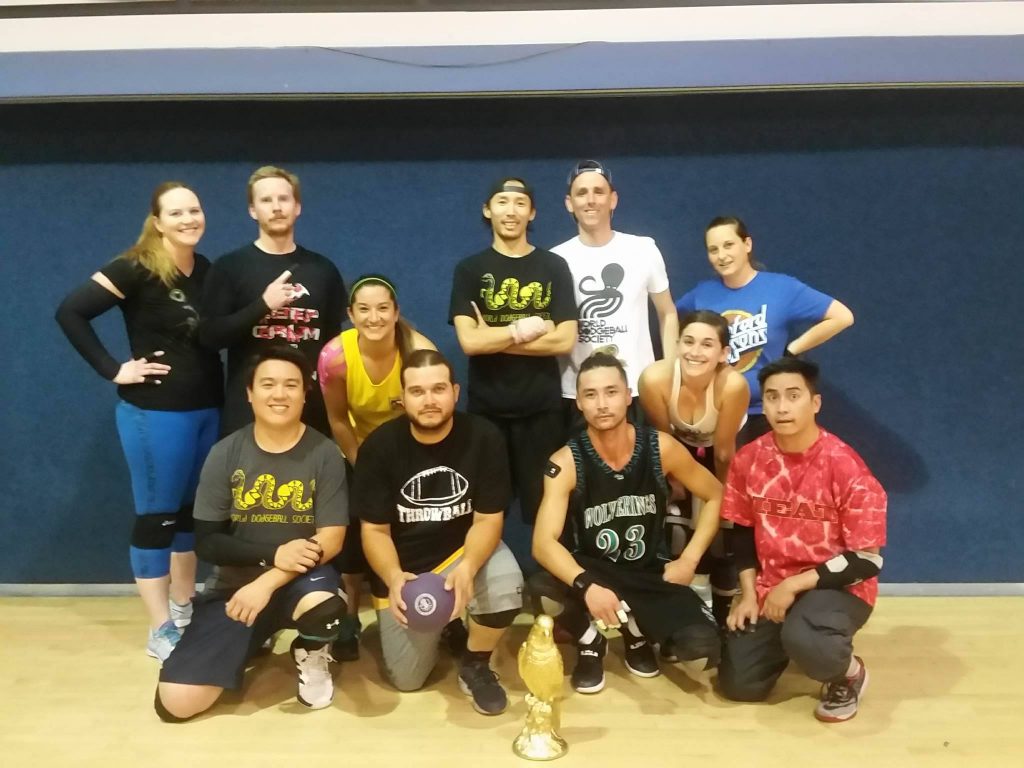 2016 Fall League Champions: My Momma Don't Like You
Welcome to the Carson League!
Heeeeere's Johnny! Your beloved Carson league has returned to satisfy your dodgeball cravings. We play at the beautiful Veterans Park Sports Complex (once upon a time it was the practice facility of the Los Angeles Clippers back in the Eric Piatkowski days) every Thursday night from 8pm-10pm.
This league is a bit more competitive, very free agent friendly and consists of smaller teams (12-14 players) on smaller courts. Like your favorite cafe or small concert venue, this league provides a nice intimate experience.
Teams are co-ed and all games are played with the official no-sting rubber dodgeball of the World Dodgeball Society to sweet tunes all night. 
We are currently on Summer Break. Please check back again soon!
---

League Managers
Feel free to contact the league managers with any questions, comments or crazy cat GIFs you may have:
---

Standings & Schedule
Carson Standings – Winter 2017

#

Team

Win

Lose

Tie

Points

Games Won

1

My Momma Don't Like You

5

0

1

16

30

2

David and the Bottom Shelves

3

2

1

10

36

3

Hustle and Throw

2

2

2

8

22

4

Scraps

0

6

0

0

13

 

 

 

 

 

 

 

Rankings based in the following order: overall record points, (win = 3 points; tie = 1; lose = 0), head-to-head play, and game differentials.
Carson Schedule – Winter 2017

Date

Time

Team

Team

Court

 

Jamboree Week

2/9/2017

8:00 PM

OPEN GYM

OPEN GYM

Far

Week 1

OPEN GYM

OPEN GYM

Close

9:00 PM

OPEN GYM

OPEN GYM

Far

OPEN GYM

OPEN GYM

Close

 

2/16/2017

8:00 PM

My Momma Don't Like You (8)

Scraps (1)

Close

Week 2

OPEN GYM

OPEN GYM

Far

9:00 PM

David and the Bottom Shelves (8)

Hustle and Throw (1)

Close

OPEN GYM

OPEN GYM

Far

 

2/23/2017

8:00 PM

Hustle and Throw (6)

Scraps (3)

Close

Week 3

OPEN GYM

OPEN GYM

Far

 

9:00 PM

David and the Bottom Shelves (3)

My Momma Don't Like You (4)

Close

 

OPEN GYM

OPEN GYM

Far

 

3/2/2017

9:00 PM

David and the Bottom Shelves (9)

Scraps (3)

Far

Week 4

9:00 PM

Hustle and Throw (3)

My Momma Don't Like You (4)

Close

 

Mini Tourney!!

3/9/2017

8:00 PM

Mini Tourney!

Mini Tourney!

Close

Week 5

Mini Tourney!

Mini Tourney!

Far

Mini Tourney

9:00 PM

Mini Tourney!

Mini Tourney!

Close

Mini Tourney!

Mini Tourney!

Far

 

3/16/2017

9:00 PM

David and the Bottom Shelves – 3

Hustle and Throw – 3

Far

Week 6

9:00 PM

My Momma Don't Like You – 6

Scraps – 2

Close

 

3/23/2017

9:00 PM

Hustle and Throw – 6

Scraps – 2

Far

Week 7

9:00 PM

David and the Bottom Shelves – 4

My Momma Don't Like You – 5

Close

 

*Replacement Deadline*

3/30/2017

9:00 PM

Hustle and Throw – 3

My Momma Don't Like You – 3

Far

Week 8

9:00 PM

David and the Bottom Shelves – 9

Scraps – 2

Close

 

** PLAYOFFS / FINALS **

4/6/2017

8:00 PM

David and the Bottom Shelves

Hustle and Throw

Close

Week 9

My Momma Don't Like You

Scraps

Far

Finals!

9:00 PM

FINALS

FINALS

Close

Open Gym

Open Gym

Far