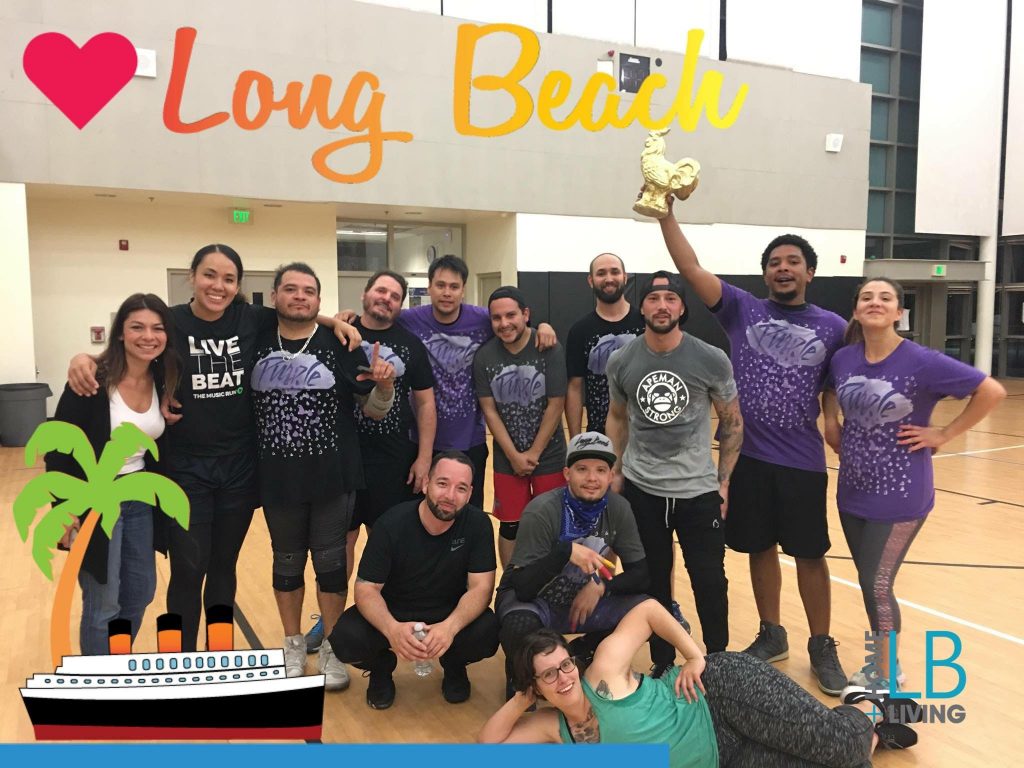 2018 Winter League Champions: Moist
Welcome to the Long Beach League!
We're located at the corner of W 3rd St. and Maine Ave. in downtown Long Beach, inside the Cesar Chavez Elementary School main gym. 
This league is rec level with smaller teams of 12 players. We encourage all newbies to check out our drop-in open gyms at the start of each season. All free agents will be placed with a team, so feel free to sign up with a small group of friends! All games are played with the official no-sting rubber dodgeball of the World Dodgeball Society to sweet tunes all night. Teams are co-ed and fun is mandatory!
Fall 2018 Kickoff: Tuesday, September 4th
Pre-Season Open Gyms: August 28th
Open gyms are from 8-10PM, open to all skill levels! **FREE** for any newbie and the vet that brings them. Otherwise, it's $5 for 2 hours of fun!
Game Day: Tuesdays
Location: Cesar Chavez Elementary School
Match Times: 8-9PM or 9-10PM
Cost: $50 for 8 weeks
Teams: 12-13 players max, 3 girl minimum
After Party: TBD
Join our Facebook group  |  View the latest league pics
---
League Managers
---
Schedule & Standings
Long Beach Standings – Fall 2018

#

Team

Win

Lose

Tie

Points

Games Won

1

Bohrer'd

6

0

1

19

52

2

Iss Only Game

3

4

0

9

27

3

Knighted

2

4

1

7

34

4

Young Joe Bidens

2

5

0

6

25

 

Rankings based on the following order: overall record points, (win = 3 points; tie = 1; lose = 0), head-to-head play, and game differentials.
Long Beach Schedule – Fall 2018

Date

Time

Team

Team

Court

 

Jamboree Week

9/18/2018

8:00 PM

Taco Tourney!

 

Stage

 

 

Potty

9:00 PM

 

 

Stage

 

 

Potty

 

9/25/2018

8:00 PM

Knighted (3)

Bohrer'd 2 Death (5)

Office

OG

OG

Stage

9:00 PM

Young Joe Bidens (3)

Iss Only Game (7)

Office

OG

OG

Stage

 

10/2/2018

8:00 PM

Knighted (4)

Young Joe Bidens (6)

Office

Bohrer'd 2 Death (8)

Iss Only Game (2)

Stage

9:00 PM

Bohrer'd 2 Death (5)

Young Joe Bidens (2)

Ofice

Knighted (8)

Iss Only Game (2)

Stage

 

10/9/2018

8:00 PM

Bohrer'd to Death (4)

Knighted(4)

Office

OG

OG

Stage

9:00 PM

Iss Only Game (7)

Young Joe Bidens (5)

Office

OG

OG

Stage

 

10/16/2018

8:00 PM

Knighted (10)

Young Joe Bidens (2)

Office

Bohrer'd to Death (12)

Iss Only Game (1)

Stage

9:00 PM

Young Joe Bidens (1)

Bohrer'd to Death (10)

Office

Iss Only Game (6)

Knighted(4)

Stage

 

10/23/2018

8:00 PM

Knighted (1)

Bohrern Supremacy (8)

Office

OG

OG

Stage

9:00 PM

Young Joe Bidens (6)

Iss Only Game (2)

Office

OG

OG

Potty

 

** PLAYOFFS/FINALS **

10/30/2018

8:00 PM

Young Joe Bidens

Bohrersin Cheese

Office

Iss Only Game

Knighted

Stage

9:00 PM

Office Winner

Stage Winner

Office

OPEN GYM

OPEN GYM

Stage