2017 Winter League Champions: Jermaine Jackson
Welcome to the Melrose Perfect 10 Advanced League!
We are located south of Santa Monica Blvd. and west of N La Brea Ave., at the Poinsettia Rec Center.
Looking for smaller teams? Wanting to focus more on strategy? Do you have a tourney team looking for a way to get practice time? Well, we have a league for you! This league is our most competitive offering and best suited for veteran players. All free agents will be placed on a team – feel free to sign up with a small group of friends or an entire team of 10, minimum 2 females. All games are played with the official no-sting rubber dodgeball of the World Dodgeball Society to super sweet tunes.
Teams will play multiple matches each week. The season will conclude with a Championship Sunday where all teams will compete in a seeded elimination tournament.
Fall 2017 Season Kickoff: Sunday, October 1
Open Gyms: Every Sunday
Open gyms are from 12:30PM-2:30PM. Open to all skill levels and just $5 for two hours!
Game Day: Sundays
Location: Poinsettia Rec Center
Match Times: 2:30-3:30PM or 3:30-4:30PM
Teams:

12 max, 10 players on the court
2 girl minimum, both must be on the court
For each female not on the court, one male must start the game on the out line (but still can be caught in). 10-person rule still applies.
8-week season concludes with a Super Ball Sunday Tourney

Cost: $60 per player
Visit our league Facebook page  |  View the latest league pics
---

League Managers
Feel free to contact the league managers with any questions, comments or crazy cat GIFs you may have: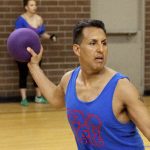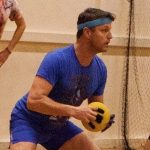 ---

Standings & Schedule
Stay tuned for the league schedule and team standings!