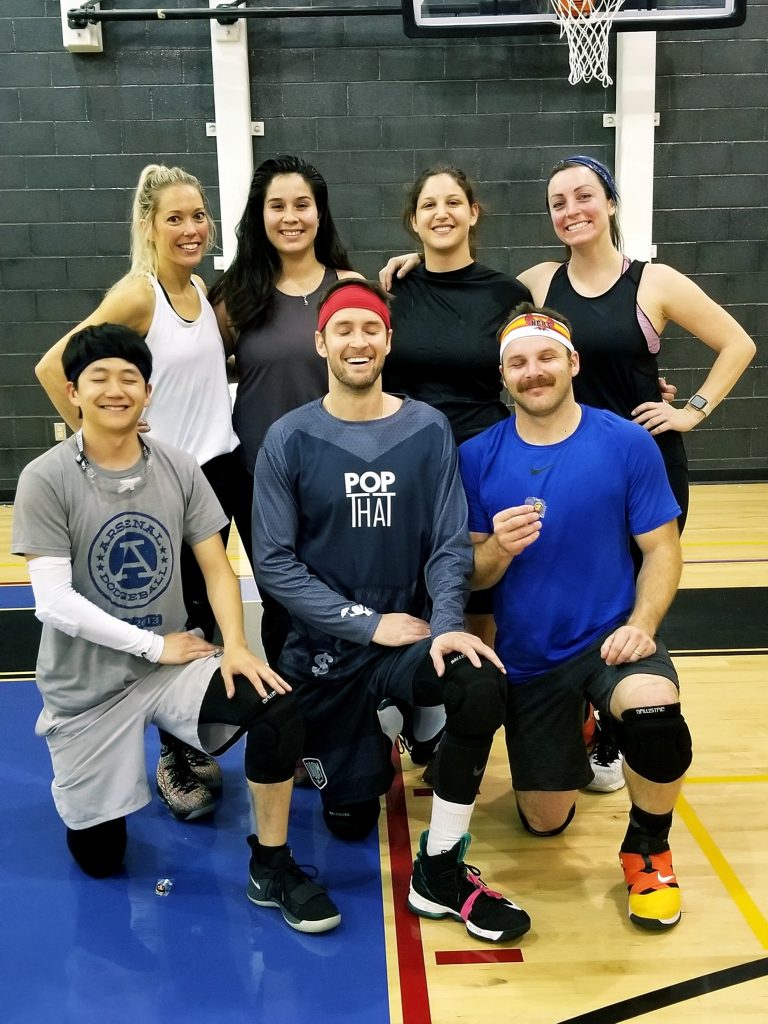 Legends of The Fall: Tyler and His Stacked Team
Welcome to the Sunday Foam League!
We are located at 826 Lucile Ave, Los Angeles CA 90026, at the Bellevue Rec Center.
Foam League is coming to Bellevue Rec on Sundays! Sign up with a buddy or solo for this Buddy Draft League. It's gonna be an 8-week season with multiple matchups per week and a 1-day,super dodgebowl playoff to conclude the season. We seek to make this a more competitive league and will be playing all games with modified WDBF rules and 7" foam balls.
Note: While we want everyone to experience Sunday Foam and the advanced level of play, we cannot guarantee spots so please sign up today as space is limited!
Fall 2023 Kickoff: Sunday, September 24th
Game Day: Sundays, 8-week season concludes with a Super Ball Sunday Playoffs
Location: Bellevue Rec Center

9/24: Week 1
10/1: Week 2
10/8: Week 3
10/15: Week 4
10/22: Week 5
10/29:

NO GAMES

11/5: Week 6

11/12: Week 7

11/19: Week 8 Playoffs
Match Times: 1:00-2:00PM, 2:00-3:00PM
Teams: TBD, but max of 8 players
Cost: $80 per player
Subbing: $10 to sub
League Format
Co-Ed:

Teams must all meet the designated co-ed requirements to be determined at close of registration.

Waiver Subs:

Teams in need of subs will select from a pool of approved, available players based on their position in the standings. The team positioned lowest in the standings will have the first choice, next lowest will have the second choice, so on and so forth.

Gameplay:

Games will be played with 6 7" foam balls following WDBF Rules. All headshots are an out for the player hit.
---
League Questions? Click here.
---
Standings & Schedule
Sunday Foam Standings - Fall 2023

#

Team

Points

Matches Won

Matches Lost

Matches Tied

Games Won

Games Lost

Differential

1
2
3
4
5
6
7
8
9
10
11
12

Rankings based on the following order: overall record points, (win = 3 points; tie = 1; lose = 0), head-to-head play, game differentials and most games won.
Sunday Foam Schedule - Fall 2023

Date

Time

Team

Team

Court

Ref

9/24

1:00p

Team 1

Team 2

Far

Week 1

1:00p

Team 3

Team 4

Potty

1:30p

Team 1

Team 3

Far

1:30p

Team 2

Team 4

Potty

2:00p

Team 5

Team 6

Far

2:00p

Team 7

Team 8

Potty

2:30p

Team 5

Team 7

Far

2:30p

Team 6

Team 8

Potty

1:00p

Week 2

1:00p

Potty

1:30p

Stage

1:30p

Potty

2:00p

Stage

2:00p

Potty

2:30p

Stage

2:30p

Potty

4:00p

4:00p

Potty

4:30p

Stage

4:30p

2:00p

Stage

Week 3

2:00p

2:30p

Stage

2:30p

3:00p

Stage

MEAN / Joey

3:00p

Potty

KOJO

3:30p

Stage

MEAN / Joey

3:30p

Potty

KOJO

FO(A)MO

2:00p

FO(A)MO

Stage

MAOF / Glen

Week 4

2:00p

MEAN

Potty

Brunchaholics

2:30p

Our Eldest Son

Stage

MAOF / Glen

2:30p

FO(A)MO

Potty

Brunchaholics

3:00p

GYST

Stage

Tyler and His Stacked Team / Joey

3:00p

Brunchaholics

Potty

MEAN

3:30p

MAOF

Stage

Tyler and His Stacked Team / Joey

3:30p

GYST

Brunchaholics

Potty

Foam Invasion

4:00p

KOJO

Tyler and His Stacked Team

Stage

Justin / Zander (BYEEEE)

4:00p

Send Noods

Fuegohoes

Potty

GYST / Chris

4:30p

Send Noods

Tyler and His Stacked Team

Stage

Justin / Zander (BYEEEE)

4:30p

Fuegohoes

KOJO

Potty

GYST / Chris

2:00p

Send Noods

MAOF

Stage

Justin / Zander (BYEEEE)

Week 5

2:00p

Tyler and His Stacked Team

GYST

Potty

Our Eldest Son / Joey

2:30p

Tyler and His Stacked Team

MAOF

Stage

Justin / Zander (BYEEEE)

2:30p

Send Noods

GYST

Potty

Our Eldest Son / Joey

3:00p

Fuegohoes

Our Eldest Son

Stage

Foam Invasion

3:00p

KOJO

BYEEEE

Potty

MEAN / Glen

3:30p

KOJO

FO(A)MO

Stage

Foam Invasion / Glen

3:30p

BYEEEE

Our Eldest Son

Potty

Fuegohoes / Vivian

4:00p

MEAN

Foam Invasion

Stage

KOJO

4:00p

Brunchaholics

Fuegohoes

Potty

FO(A)MO / Chris

4:30p

Stage

KOJO

4:30p

Potty

Chris / Vivian

10/29 No Games

2:00p

FO(A)MO / Chris

Week 6

2:00p

Fuegohoes

Potty

Our Eldest Son / Joey

2:30p

Stage

Chris / Joey

2:30p

MEAN

Potty

Fuegohoes / Vivian

3:00p

Fuegohoes

MAOF

Stage

Justin / Zander (BYEEEE)

3:00p

FO(A)MO

Our Eldest Son

Potty

Send Noods

3:30p

MAOF

Our Eldest Son

Stage

Justin / Zander (BYEEEE)

3:30p

Foam Invasion

KOJO

Potty

Vivian / Send Noods

4:00p

Foam Invasion

Brunchaholics

Stage

FO(A)MO / Glen

4:00p

GYST

Send Noods

Potty

KOJO

4:30p

KOJO

GYST

Stage

MAOF / Glen

4:30p

Send Noods

Brunchaholics

Potty

Foam Invasion

2:00p

Send Noods

Foam Invasion

Stage

Brunchaholics / Glen

Week 7

2:00p

FO(A)MO

Fuegohoes

Potty

Tyler and His Stacked Team

2:30p

FO(A)MO

Send Noods

Stage

Brunchaholics / Glen

2:30p

Foam Invasion

Fuegohoes

Potty

Tyler and His Stacked Team

3:00p

Brunchaholics

Tyler and His Stacked Team

Stage

Justin / Zander (BYEEEE)

3:00p

Our Eldest Son

GYST

Potty

Vivian / Send Noods

3:30p

Tyler and His Stacked Team

Our Eldest Son

Stage

Justin / Zander (BYEEEE)

3:30p

GYST

Brunchaholics

Potty

Vivian / Send Noods

4:00p

BYEEEE

KOJO

Stage

GYST / Chris

4:00p

MAOF

MEAN

Potty

Our Eldest Son / Joey

4:30p

KOJO

MAOF

Stage

GYST / Chris

4:30p

BYEEEE

MEAN

Potty

Our Eldest Son / Joey

12:00p

Seed 8

Seed 9

Stage

Refs

Week 8

G2

12:00p

Seed 5

Seed 12

Potty

Refs

PLAYOFFS

G3

12:50p

Seed 7

Seed 10

Stage

Refs

& FINALS

G4

12:50p

Seed 6

Seed 11

Potty

Refs

G5

1:40p

G1 Winner

Seed 1

Stage

Refs

G6

1:40p

G2 Winner

Seed 4

Potty

Refs

G7

2:30p

G3 Winner

Seed 2

Stage

Winner of G5

G8

2:30p

G4 Winner

Seed 3

Potty

Winner of G6

G9

3:20p

G5 Winner

G6 Winner

Stage

Refs

G10

3:20p

G7 Winner

G8 Winner

Potty

Refs

G11

4:10p

G9 Winner

G10 Winner

Stage

Refs