2017 Winter League Champions: Unicorns
Welcome to the Westchester Rec League!
We're located at the corner of Manchester Ave. and Lincoln Blvd. at the Westchester Rec Center, in the big gym next to the skatepark.
This league is very newbie and free agent friendly. We encourage all new players to check out our drop-in open gyms at the start of each season. All games are played with the official no-sting rubber dodgeball of the World Dodgeball Society to sweet tunes all night. Teams are co-ed and fun is mandatory!
Sign up with a full roster of 20, a small group of friends or as a solo free agent to be placed on a team! We host bar games at Prince O' Whales and team costume nights throughout the season.
Fall 2017 Season Kickoff: Wednesday, September 27
Pre-Season Open Gyms: September 13 & 20
Open gyms are from 8-10PM, open to all skill levels. FREE for newbies and anyone who brings a newbie; $5 for everyone else.
Game Day: Wednesdays
Location: Westchester Rec Center (the big gym)
Match Times: 8-9PM or 9-10PM
Cost: $60 for 10 weeks
Teams: 20 players max, 5 girl minimum – captains must submit rosters for approval
After Party: Prince O'Whales
Team spots are full, but free agent spots are still available. Sign up and get your dodgeball on!
View the latest league pics ▸▸  |  Check out the after party at Prince O'Whales ▸▸
---

League Managers
Feel free to contact the league managers with any questions, comments or crazy cat GIFs you may have: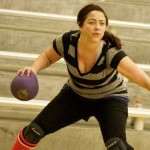 ---

Standings & Schedule
Westchester Standings- Fall 2017

#

Team

Win

Lose

Tie

Points

1

ABC Deez!

1

0

0

3

2

A Team Has No Name

1

0

0

3

3

WorkaBalics

1

0

0

3

4

Mutha Huggas

1

0

0

3

5

Demon Summoners

0

1

0

0

6

Back For S'more

0

1

0

0

7

Unicorns

0

1

0

0

8

Drunkasaurus

0

1

0

0

 

Rankings based in the following order: overall record points, (win = 3 points; tie = 1; lose = 0), head-to-head play, and game differentials.
Westchester Schedule – Fall 2017

Date

Time

Team

Team

Court

 

Jamboree Week

6/17/2015

8:00 PM

ALL TEAMS

 

Office

 

 

 

 

Storage

 

9:00 PM

 

 

Office

 

 

 

 

Storage

 

10/4/2017

8:00 PM

Demon Summoners (4)

ABC Deez! (6)

Office

Back For S'more (3)

Mutha Huggas (4)

Storage

9:00 PM

A Team Has No Name (5)

Drunkasaurus (1)

Office

WorkaBalics (4)

Unicorns (3)

Storage

 

10/11/2017

8:00 PM

Back For S'more

WorkaBalics

Office

 

 

Unicorns

Demon Summoners

Storage

 

9:00 PM

Drunkasaurus

Mutha Huggas

Office

 

 

A Team Has No Name

Sample Deez!

Storage

 

10/18/2017

8:00 PM

WorkaBalics

A Team Has No Name

Office

 

 

Mutha Huggas

Unicorns

Storage

 

9:00 PM

Demon Summoners

Back For S'more

Office

 

 

Sample Deez!

Drunkasaurus

Storage

 

10/25/2017

8:00 PM

Unicorns

A Team Has No Name

Office

 

 

Drunkasaurus

Back For S'more

Storage

 

9:00 PM

Mutha Huggas

Demon Summoners

Office

 

 

Sample Deez!

WorkaBalics

Storage

 

11/1/2017

8:00 PM

Sample Deez!

Back For S'more

Office

 

 

Mutha Huggas

A Team Has No Name

Storage

 

9:00 PM

Unicorns

Drunkasaurus

Office

 

 

WorkaBalics

Demon Summoners

Storage

 

Replacement Player Deadline

11/8/2017

8:00 PM

Mutha Huggas

Sample Deez!

Office

 

 

Back For S'more

Unicorns

Storage

 

9:00 PM

Drunkasaurus

WorkaBalics

Office

 

 

A Team Has No Name

Demon Summoners

Storage

 

11/15/2017

8:00 PM

Back For S'more

A Team Has No Name

Office

 

 

Demon Summoners

Drunkasaurus

Storage

 

9:00 PM

WorkaBalics

Mutha Huggas

Office

 

 

Unicorns

Sample Deez!

Storage

 

11/22 – NO GAMES: THANKSGIVING

 

** PLAYOFFS **

11/30/2017

8:00 PM

Seed 1

Seed 8

Office

 

 

Seed 2

Seed 7

Storage

 

9:00 PM

Seed 3

Seed 6

Office

 

 

Seed 4

Seed 5

Storage

 

** FINALS **

12/6/2017

8:00 PM

Winner 1v8

Winner 4v5

Office

 

 

Winner 2v7

Winner 3v6

Storage

 

9:00 PM

Open Gym

Open Gym

Office

 

 

Winner 8p Office

Winner 9p Storage

Storage