Welcome to the West LA League!
Hey buddy, are you ready for the Summer!? Great, because West L.A. is coming back with a buddy draft! The new Summer Season sets sail on July 25th. It's a six week season with smaller teams. Sign up as loner or with a bud (put their name in the team field when registering). We will put together the teams once everyone is registered. It's a great chance for you to play alongside your rivals and/or make some new friends.
Open Gyms on will be taking place most every Monday leading up to the start of the league for anyone wanting to test the waters or shake off some rust.

West L.A. invites you to come get your sweat on with us. Fun times await you at Stoner Rec this season. Join us for an epic 6-week draft session. You'll love the smooth jams, easy parking, and action packed games!

All games are played at Stoner Rec Center, located on Stoner Ave., between Santa Monica Blvd. and Olympic Blvd.
This league is a bit more competitive but open to players of all levels. Sign up solo or with a friend.
Games are played with the official no-sting rubber dodgeball of the World Dodgeball Society to sweet tunes all night.
All players must submit proof of completed vaccination to info@dodgeball4ever.com in order to participate in open gym or league play at least 24hrs prior to attending. Once you are in the WDS Vaccination database you will not need to provide again. Temperature checks will be administered nightly prior to entering the gym. And lastly we will be following state guidelines and masking up this season.
Summer 2022 Kickoff: Monday, July 25th
Game Day: Mondays
Location: Stoner Rec Center
Match Times: 8-9PM or 9-10PM
Cost: $70 per person
Teams: Co-ed, assembled via registered player
After Party: Busby's West
Join our Facebook group to stay up to date
---
League Manager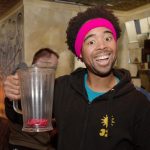 Tory Thompson
---